Did you know? An employee forgets 65% of material within 7 days of training and 90% within 6 months if no effort is made to repeat or use the information.
Hermann Ebbinghaus, a German psychologist, demonstrated how spaced learning helps to overcome the forgetting curve. The training methodology exploits the fact that the human brain transfers knowledge from short-term memory to long-term memory only after failing to recall it when required and registering that the knowledge is required often.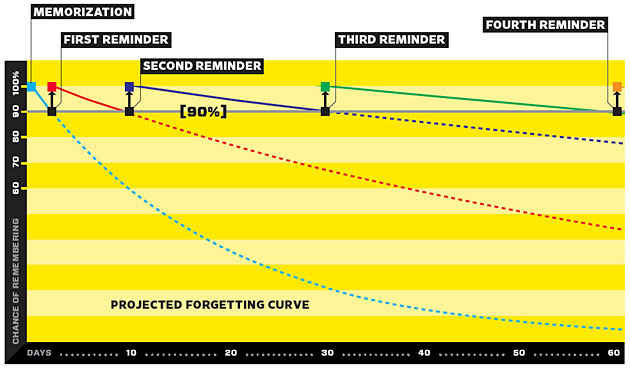 Image source: https://www.gwern.net/Spaced-repetition
The benefit of spaced learning is known to all and sundry in the L&D Fraternity. Spaced Learning has two aspects to it – managing the process and managing the content that needs to be delivered to the learners. In this blog, we will look at the video as the content for spaced learning and their management.
Videos - The Preferred Mode of Content for Spaced Learning
The human brain processes imagery 60,000 times faster than text, and 90% of the information transferred to the brain is visual. Videos stimulate both hearing and sight. Creative dissemination, reliability, and experiential nature make videos the preferred learning format.
For spaced learning, the preference is to keep the learning duration short, easily accessible, and condensed. Out of all the media types, only videos can meet this need. In fact, superior mobile technology is making the video-watching experience better. In a survey, learners reported more motivation and a higher probability of spending time learning beyond working hours if the content is accessible on a mobile device.
While Videos are easy for learners, the management, hosting, and streaming on the demand of users is equally difficult and technically very challenging.
How to Easily Manage the Videos for Spaced Learning
Right Learning technology is the key to success. Organizations need a Learning Management System that can integrate the hosting and management of videos as well as have features to manage the spaced learning programs. A powerful LMS with Video Library feature can help organizations to:
Upload and manage video-based learning content
Deliver content on web-based players that support multiple resolutions
Generate comprehensive usage reports
Create multiple channels that can be subscribed to
Upload closed caption using support for video transcripts
Access videos through a YouTube-style video interface
Subscribe to channels from the list of available channels
Add videos to their favorite list for later and quick view
Make use of in-video search and bookmarking
The LMS also allows L&D to plan spaced learning programs by linking the reinforcement videos for follow-up training sessions. It uses its own resources to send a stream for video playback by employees, delivering a seamless experience to learners. In this way, the integration of Video Library and Spaced Learning functionality can allow them to seamlessly run their video-based spaced program.
We at Tenneo, have 20+ years of experience in managing various industry-specific LMS requirements. To know more about our range of LMS products, contact us to get more details.