Tenneo and the Telecom industry – Highly Connected
The telecom sector (including Data, Mobile, and Corporate Communication services) has witnessed nothing short of a revolution in the last two decades. This has been fueled by various factors, including the implementation of new policies, regulations, and guidelines, advancements in both voice and data communication through 4G and 5G spectrums, the emergence of cutting-edge technology, and upgrades to bandwidth and spectrums. All of this demands a highly skilled workforce that is proficient in handling latest tools and technologies.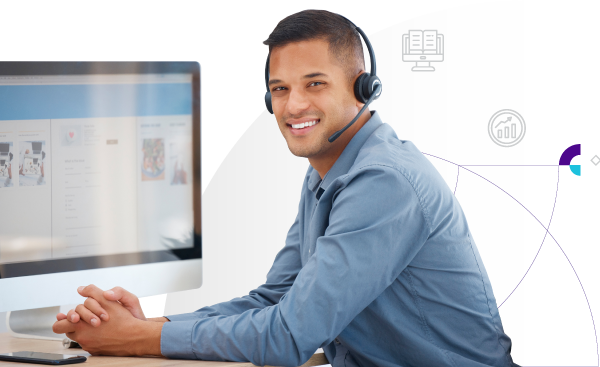 Training that rings true with Telecom
Tenneo is your strongest link to the future. Two decades of experience working with the largest telecom brands has helped us develop unique solutions for:
Customer Service Centers – including outbound and inbound call centers
Fulfillment Centers and Brand Outlets – including franchisees
Service Providers – comprising teams that conduct customer home visits to provide services
If you are looking for an LMS that provides
---

Standardised training and assessment for a remote workforce

Automation and gamification feature to improve engagement

Rapid technical and process training on next-generation technologies

Learning reinforcement for multiple products

Automated KPI-based training to improve metrics (AHT, TAT, FTR) for customer centers and service workforce

Compliant-ready solutions for regulatory bodies, including the FCC, OFCOM, and TRAI
Then you're in the right network zone.
Here's Who
Connected with Us
---














---
How Does Tenneo Help?
The future is already upon us with higher-grade networks in the pipeline. The technology, skills that are needed demand constant upskilling with comprehensive solutions that are industry specific. Our LMS programs are measurable, flexible, and developed with industry professionals.
Customer Service Centers
KPI-driven training (soft skills training and process training) to hone new leads and service existing customers
Product and process training for grievance redressals
Targeted learning delivery as per skill gap analysis
Fulfilment Centers
Constant monitoring of training requirements
Automated notification mechanisms with triggers and multimodal notifications
Sales learning programs for upselling and cross-selling
Remote training for extended and remote workforces
Gamification mechanisms to provide incentivisation for training completion
Service Providers
Excessive training on changing technologies and processes
Process training for on-ground services like Sim Installation, KYC, etc.
Formalised training system and virtual meeting tools to distribute and monitor technical training
Notification system for scheduled huddles and learning for new developments
On-job evaluation mechanism and assessments to monitor proficiency levels and boost performance
Linking Learning with Performance
Spaced learning
Performance support
Just-in-time learning
Kirkpatrick model of evaluation
Flipped classroom model
Hassle-free Integration and Implementation
100+ connectors for integration with your tech stack
Continuously upgraded to provide better functionality
Integration with content repositories for better learning
Integration with social platforms for better collaboration
AI-driven Learning Experience
AI-based video assessments
Natural language programming
Machine learning for better suggestions
Deep search