Tenneo LPP –
What is it?
Maximum impact with
minimum effort
Tenneo's LPP is a pioneering learning performance platform, recognised by clients globally. It sets the standard for precision and productivity in corporate learning management, by integrating learning products and performance tools. Using technologies such as Machine Learning and AI, our LPP engine learns business analyses, KPI data, and gaps in training to recommend either training or interventions.
---
Tenneo LPP reduces unnecessary training and distinguishes the most productive workforces from those in need of training at the right time.

Tenneo overcomes the hurdles of time management and disengaged learners through a unique and structured framework.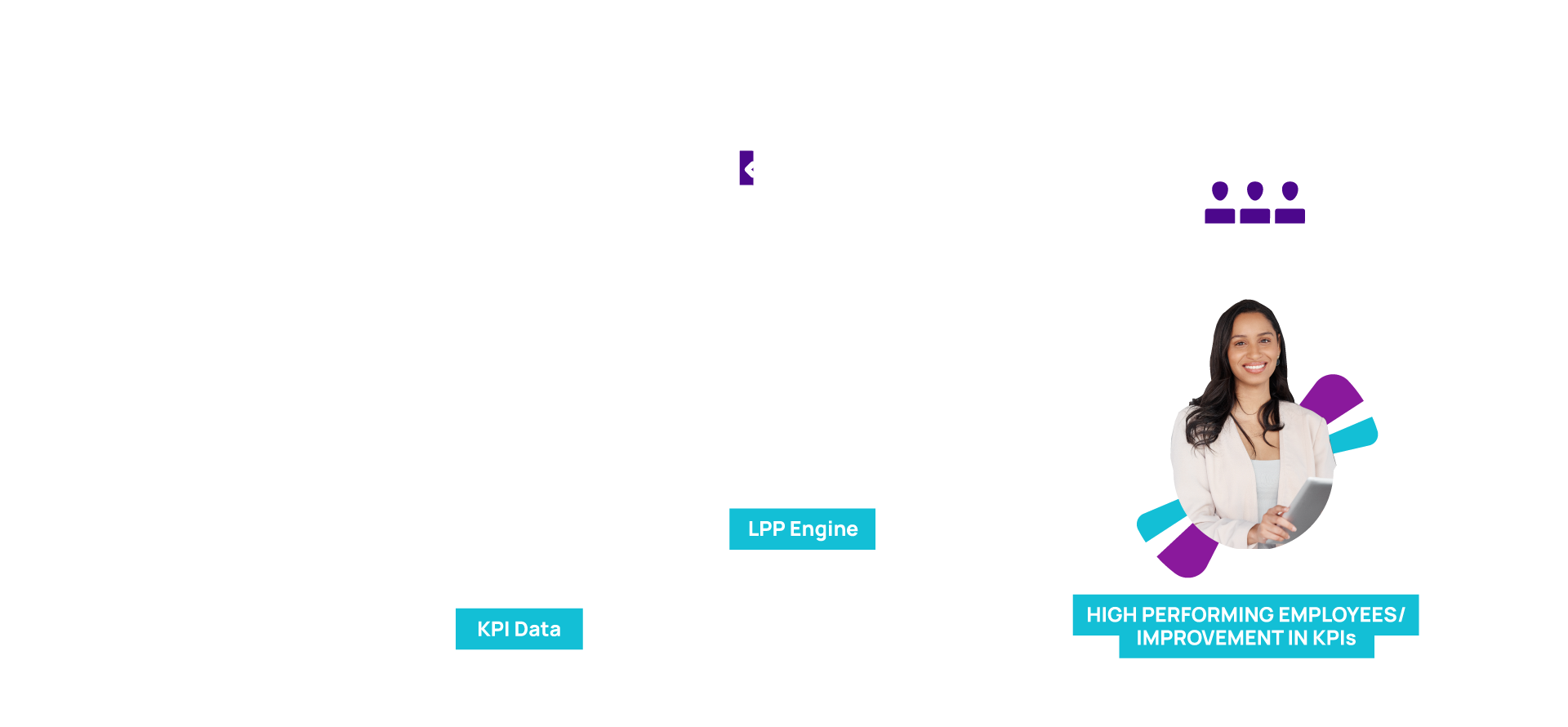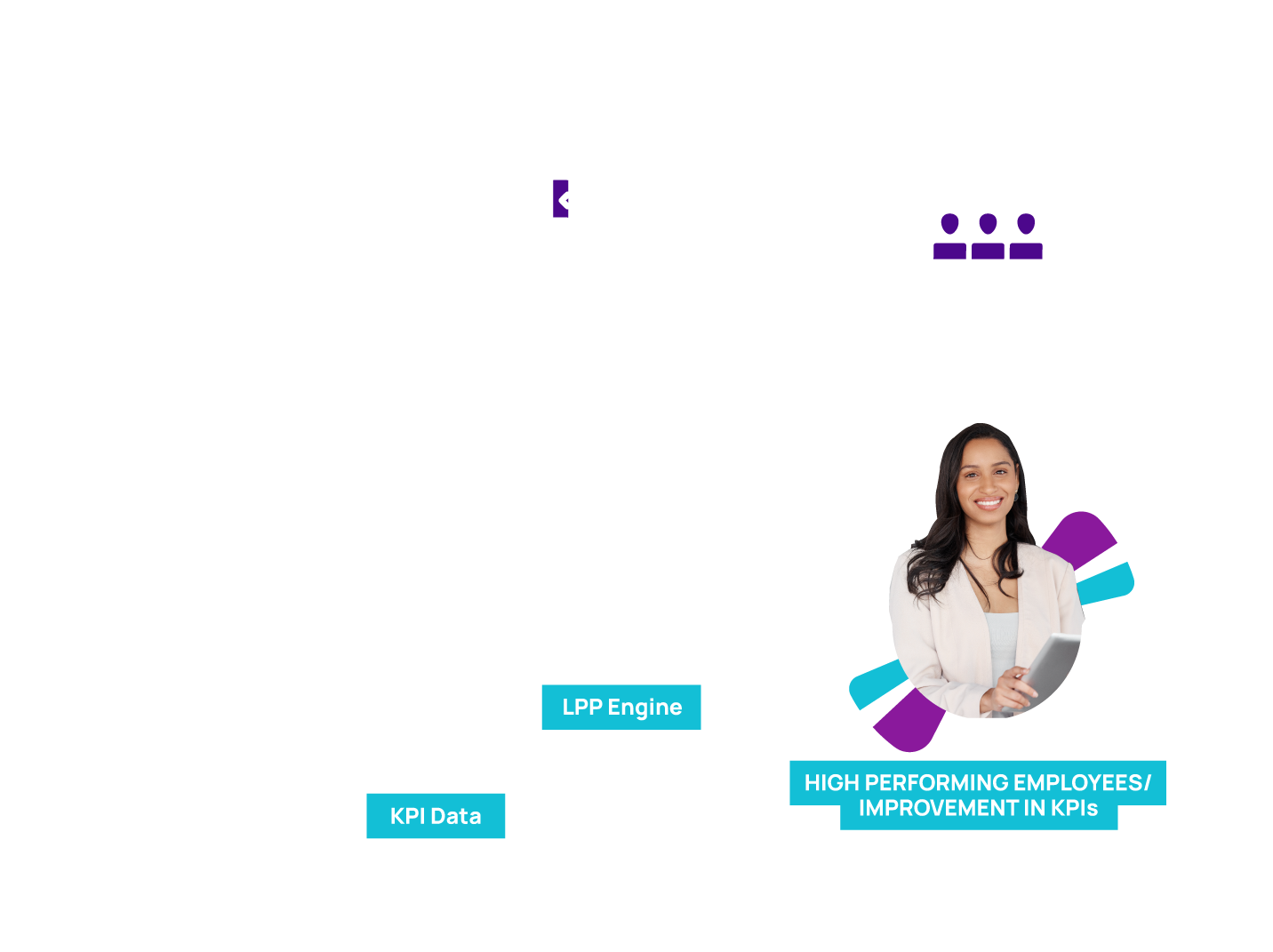 Enhancing workforce productivity and KPIs through targeted learning interventions
How is Tenneo LPP
Typically Used?
Tenneo LPP is used when organisations need targeted learning interventions to bring the workforce up to speed. The framework is designed to: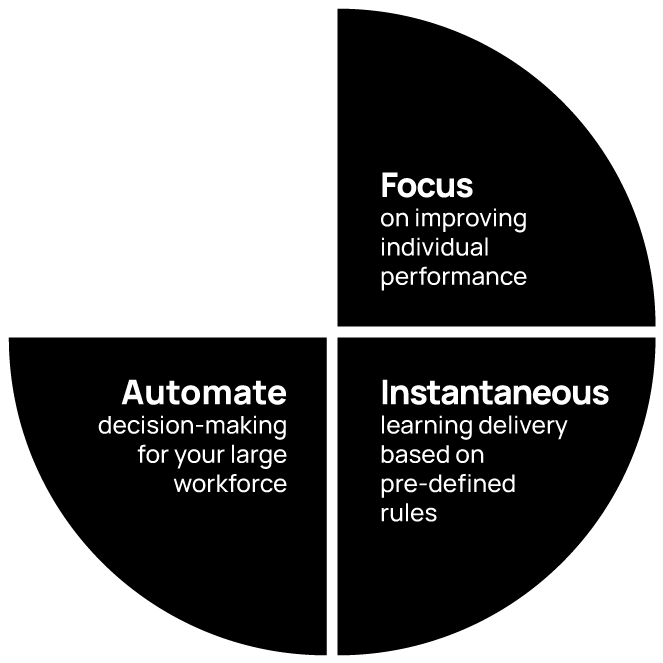 Improve learning outcomes with LPP
Drilled Down
Identifies specific needs up to sub-topic level so that they can be addressed
---
Targeted
Identifies the workforces whose performance shows that they require training
Just in Time
It is only triggered exactly when a need is detected
---
Continuous Improvement
See performance impact of rules and learning, and improve them to develop future training interventions and content
Gain insights into trainings that are effective and those that don't work
1
Is the Tenneo LPP compatible with my existing LMS?
Tenneo LPP has connectors which link to performance data repositories like CRM, performance and quality management systems. It also connects to multiple LMS to provide end-mile learning to the user.
Tenneo LPP can be implemented on any LMS. It is designed to reduce training costs by targeting the right workforces with the right training. This means our back-end engine is working hard and continuously gathering data to determine gaps and exact workforce needs. What suits your organisation or Who needs improvement? It suggests the precise kind of courses to enable improvements in specific areas.
3
What improvements can I expect?
Tenneo LPP departs from the traditional approach to learning and training. It is designed to reduce unnecessary training by 70%. It also eliminates replication of training. Tenneo LPP achieves this through analysis of the workforce, measurement of KPIs and specific training recommendations.
4
Is Tenneo LPP customised?
Depending on the business goals, Tenneo LPP recommends different paths suited to your needs.
Periodic feeds in performance data
Analysis of KPI/KRA data
Analysis of performance gaps
Training and Learning Interventions
Enhancing individual efficiency
Data Security and Data Consistency are central to the Tenneo LPP offering. We ensure that all performance data and PII is encrypted and follow guidelines as provided by Standards organisations on data security including ISO 27001, ISO 27708 and SOC Type II and III.
6
Can different models be tested within the organisation?
Tenneo LPP has been set up for analysis and testing to see what modes of learning are best for your workforce. We provide test labs inside the tool to create scenarios and test out hypotheses before the actions are rolled out to larger populations. This ensures the efficacy of any model is optimal.