The pharmaceutical and healthcare industry involves multiple intricate aspects.
The industry's constant progress in new molecules and technology requires rigorous adherence to regulations and compliance. Tenneo LMS recognises the distinctive training needs of a wide-ranging workforce, from manufacturing to sales, and the need for regular re-training.
Compliance with strict regulations by governing bodies such as USFDA, WHO, PAHO, ICH, WIPO, etc., is essential, and a competent LMS is necessary.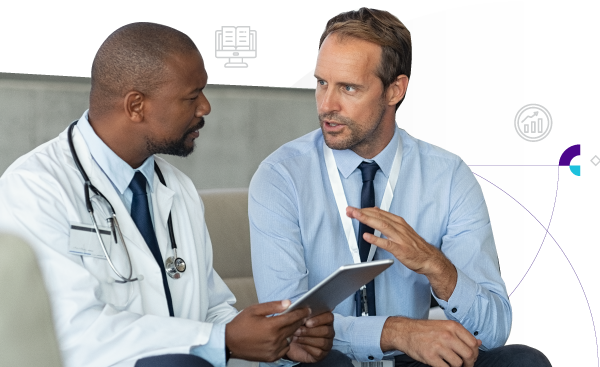 Healing the gap: your prescription for top-notch training
Does your LMS
Manage the strict regulations and certification requirements
Provide agile learning for unique Standard Operating Procedures
Train for multiple, complex products and processes
Offer mobile-friendly learning assistance for Medical Representatives
Have a sales enablement mechanism for gathering intelligence during pitches to doctors
Links with CRM or other platforms
Tenneo LMS understands the industry's specific and rigorous needs and is developed in consultation with healthcare and pharma industry experts.














---
For Manufacturers
Built-in compliance feature with certification management and audit trail
Compliant with 21CFR Part 11 as per industry requirement for sale in EU/US/UK
Training in line with guidelines established by FDA, AMA, IMA, etc.
Definition and extension documentation of Job Descriptions for various roles and linking with Standard Operating Procedures (SOP)
Automated workflows for training assignment based on SOP update
Constant monitoring, triggers, and notification mechanisms to ensure compliance and avoid penalties
For Sales through Medical Representatives
Soft-skills and product training to market and pitch Scheduled Drugs
Measurable KPIs to identify skill gaps and provide just-in-time training
Built-in on-the-job evaluation for continuous learning and feedback
Linking with CRMs and other platforms to provide on-time and need-based material for scheduled pitches
Deep search mechanism to source and showcase material to doctors in real time
Assessment of product knowledge and soft skills to assign MRs to future tasks
Linking Learning with Performance
Spaced learning
Performance support
Just-in-time learning
Kirkpatrick model of evaluation
Flipped classroom model
Hassle-free Integration and Implementation
100+ connectors for integration with your tech stack
Continuously upgraded to provide better functionality
Integration with content repositories for better learning
Integration with social platforms for better collaboration
AI-driven Learning Experience
AI-based video assessments
Natural language programming
Machine learning for better suggestions
Deep search