It's time to develop your own community with Tenneo
Non-profits are perhaps the most motivated, inspiring organisations where profits and ROI do not define them. But they are complex in their operations and activities which range grassroot movements to bring about change in communities, economies of regions, social upliftment, and political reform.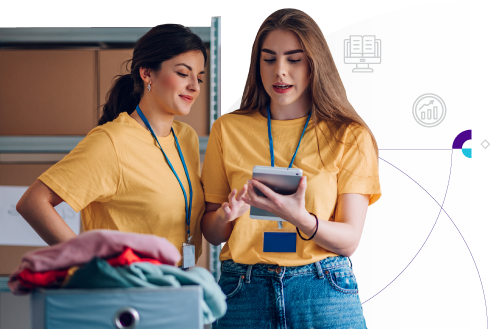 Tenneo LMS provides a seamless learning experience that non-profits need, to build a community that is in sync and drives real-world impact.
Cost-effective and scalable learning for a wider reach
Immersive and engaging learning, leading to higher retention
Centralised knowledge platform
Sustainable, user-friendly technology for various users
Localised, accessible, and multilingual capabilities
Tenneo LMS offers a smooth and adaptable solution, catering to extensive and interconnected networks of volunteers and internal employees, such as program managers or CSR officers. Additionally, the platform takes an empathetic approach to compliance, inclusivity, and multilingual accessibility.














---
How Does Tenneo Help?
Tenneo LMS provides technology-aided learning solutions to help global non-profit networks attain specific goals. The LMS is aimed at creating mission-focused, skilled learners at all levels with a high degree of knowledge and operational efficiency.
Offerings

Specific guidelines based on WCAG and Section 508 to ensure accessibility

Content dispersal through multiple platforms including website, applications, emails, etc.
Various mechanisms for continuous encouragement like in-app and app notifications, emails, deep linking, etc.

Engaging learning through robust video libraries, microlearning nuggets, localisation options, and multilingual capabilities

Mechanisms to build distinct domains for different locations, countries, and types of audiences (front line workers, specially abled, trainers and coaches, etc.)

Self-registration and admin-regulated user management features

Training in the nuances of ethics, compliance, fundraising, environmental health, and more
Tenneo LMS is also specially priced for non-profits and ensures best value for your investment, compared to other LMS's in the market.
Linking Learning with Performance
Spaced learning
Performance support
Just-in-time learning
Kirkpatrick model of evaluation
Flipped classroom model
Hassle-free Integration and Implementation
100+ connectors for integration with your tech stack
Continuously upgraded to provide better functionality
Integration with content repositories for better learning
Integration with social platforms for better collaboration
AI-driven Learning Experience
AI-based video assessments
Natural language programming
Machine learning for better suggestions
Deep search